This image came up "naturally" as I was standing under the wheel, waiting for some friends at the Oktoberfest grounds, in Munich. I got the wheel to fill the whole frame (I was too close...).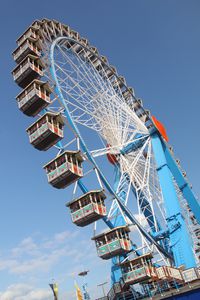 Increasing the saturation would not separate the ferris wheel good enough from the background. So I decided to go for a black and white rendering using the traditional approach from film photography: I simulated a red filter, to darken the sky.
To do so, first I applied a slight curves adjustment, to increase contrast. In this case, the S was not symmetrical, so that I already darkened the sky a bit.
Then, I converted to B&W just keeping the red channel (thus values R100%, G0%, B0%).
And that's it. No further steps today... If you have read this blog (or any of my books), you will know that every edition step adds potential image losses, so I prefer always to do few steps to reach the final image... of course, in this case the intention was quite clear from the beginning.