In many cases, we have faced some roadblock when trying to create our artistic proposals, due to the high price of the required software tools to do so. In this post, I will review some valid proposals that can replace most of the current edition and content creation programs, at zero cost...
There are three main areas in graphic design, covered (almost as a monopoly...) with software from the Adobe company:
Photographic edition
With the ever-present Photoshop as main competitor, a legal license can cost around 1,000€. However, for most edition cases, you may find free tools such as The GIMP (available for download from Gimp.org), that can cover all your needs; GIMP will also work with layers and channels, and it is also compatible with the PSD format from Photoshop.
In parallel, there are free RAW image processors, similar to Adobe Camera Raw, which you may use to take party of the full power of your DSLR camera. For example, you could try RAWTherapee - also free.
Vector graphics
In a close competition with commercial software such as CorelDraw or Adobe Illustrator, a quick search in Internet will also provide applications as InkScape (available from InkScape.org), which include most of the commands and options from the named programs, completely for free. It allows for the creation of cliparts that can be later on imported in other programs, but of course you may use it as stand-alone application.
Layout software
Composition of texts, images, graphics, decoration... in order to create rich editorial documents has been done traditionally with expensive tools as QuarkXpress or Adobe InDesign (and the former Aldus Pagemaker). But yes, you can also find free alternatives to those - like Scribus (you may download it from Scribus.net), full with professional edition options, including exporting to EPS and PDF.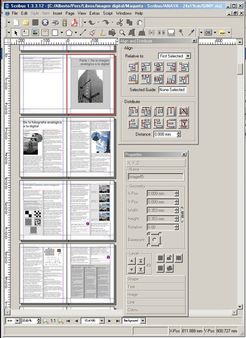 You might also like...
B&W photos colouring with "multiply" in GIMP