In my last post I spoke about the technical limits for the aperture, specificallyon the difficulty of producing lenses that allow for the 100% light transmission (f1.0) to the sensor (or negative...), due to the losses produced in internal lenses, reflections, refraction...
... and then I come accross an advertisement from Voigtländer (now, owned by the Japanish company Cosina), offering their prime 25mm lens with a maximum aperture of f0.95... In theory, it allows for the transmission of more light than available. Wow.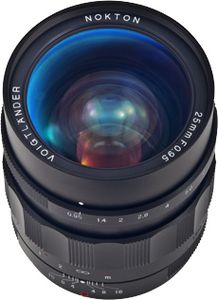 Unfortunately, it is only produced for micro four-thirds cameras, so it won't fit my EF / EF-S Canon mount. And it costs "only" 949€ according to their web page... furthermore, focusing is manual only. Bah.
This said, the diaphragm consists of 10 blades, which should produce very nice bokeh results. I would not mind testing it, maybe with a cheap adapter from my chinese friends of Dealextreme (haha). Apart from this, it seems the perfect objective for landscape photography, specially in low light conditions...
If I compare it with similar lenses from the official Canon webpage, the most similar one is the EF 24mm f1.4L II USM. Here, you must look at the hidden "L" in the middle - this is the mark for high-end lenses, which means, officially, about $1,750, or rather, 1,400€... So I will keep on dreaming.
Of course, if you feel like buying me one of such lenses, we can discuss it :) I am willing to produce a couple of sample shots, to show you how good they come...