It is just one month since I published my book "Publicación Online - hazlo tú mismo" (in Spanish - "Online Publication - do it yourself").
Well, right now I can anounce the release of a second edition, with some important changes.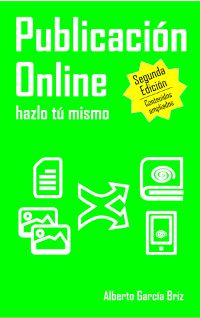 Of course, main reason for this new edition is the addition of many contents (almost twenty pages more) and the correction of some errors detected in the first samples received at home.
Furthermore, I used this opportunity to fully redesign the cover - now you cannot say it is not appealing...
As usual, the book will be available "right now" in the editor's web page (CreateSpace), and as eBook through Amazon. Paperback version will also be available in a few days in Amazon's databases, so that you may take advantage of their Prime subscription, in case you have it.
Previous version of the book will be removed in a few weeks, just in case you want to have it as a curiosity...