In the next days, you may hear about this quite a lot...
Raspberry Pi (from Raspberri Pi Foundation) is a micro-computer which includes just micro-processor (an ARM1176JZF-S at 700MHz), graphics unit, I/O and DSP chip, and RAM memory. It does not include any hard drive, which is replaced by a SD card.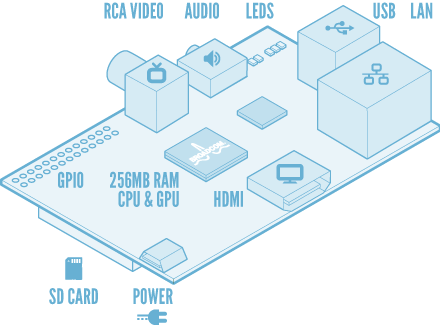 Up to here, nothing new. Novelty is the small size achieved (85.6 x 53,98mm) and, above all, its price (between $25 and $35), which enables its introduction in multiple environments at negligible cost. It includes an audio interface (3.5mm jack) and Ethernet in the full variant.
According to the spec, it could work (there are videos on YouTube...) with 1080p video, with a power consumption of just 2.5W (powered from a Micro USB connector).
Also according to that spec, it would work with Linux in some of its flavours: GNU/Linux, Fedora, Arch Linux...
You haven't still yours? Buy it at www.raspberrypi.org (well, in fact, through Farnell or RS Components)...