Reviewing some of the pictures, which I consider interesing for the project, I found some that are already damaged by time. As an example, here is a picture of Zaragoza, taken from a tower of the EL Pilar cathedral.
It shows, next to the closest tower, a wide view of the roofs in the neighbourhood, with Alfonso street in a diagonal. Well, most of the color is gone, just red shades remain.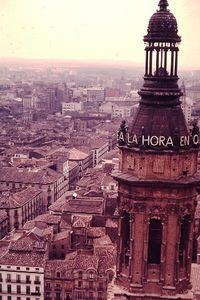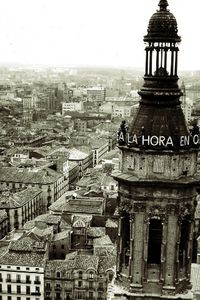 As you will probably already know, I like image editing and conversion to black and white. I made the test on the right, and I quite like the result. However, it is not the original image. What do you think? Should I keep the original, or rather use edited photos?
In case you are interested, the image on the right was produced with the channel mixer, values 25%, 0%, 75%. After that, I applied a Plati toning process, and finally a "S-curve" adjustment to enhance contrast...