As you may have already read in other posts from me, I just published an update to my book "Publicación online - hazlo tú mismo" (Online publishing - do it yourself). This is the third edition; second one was released in July 2013.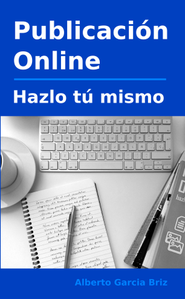 Among the several reasons to launch this update, main one is contents update. Together with an updated lists of editors and web pages where you may publish your electronic book, there are some new sections, like the presentation of Sigil (an editor for electronic books in native epub format) and a reference to crowdfunding.
Of course, I used the opportunity to redesign the cover, this time including (valuable) input from third parties. Finally I can consider this book to be complete - and I can continue working in the next one.
If you are thinking of publishing something on your own, or you always wanted to do it but you didn't know it was that easy (and cheap!) to do it, this book is for you.