Yes. You read it right. When the world seems to stabilize around three main formats (CompactFlash, SecureDigital y Memory Stick) ) and its derivates, the CompactFlash Asociation has launched a new format proposal, which will be (at least, initially) incompatible with all other current ones. You may download the press release from this link:
http://compactflash.org/wp/wp-content/uploads/2011/12/2011-12-07_XQD_Press_Release1.pdf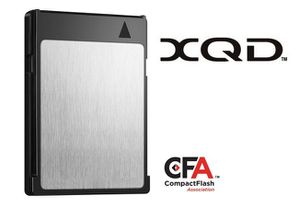 The proposal, called XQD and, apart from a physical size between SD and CF, it is based on the PCI Express bus, with current speed specification up to 2,5Gbps and planned up to 5Gbps, which would represent around 125Mb/s. Overwhelming?
This step would mean the dismissal of Parallel ATA communication, similar to that of "old" IDE hard drives, for example. Most recent CompactFlash developments are based on Ultra Direct Memory Access (UDMA), but they are still limited by that old parallel communication.
If you have the chance, you may attend official presentations at the CP+ 2012 fair in Yokohama, in February next year. Main target is to start licensing beginning of 2012, so that we might see first camera developments with this format a few months later.
Both CompactFlash and SecureDigital formats keep developing new proposals, each time with higher capacities and write / read speeds. However, I am afraid that we are facing a new winner – then, the question is not anymore if this will success, but when will we have affordable cameras using this memory format…