Great! It seems that the market is moving in 2012... If only a few weeks ago we could read about the proposal of a new memory card format from the CompactFlash assiciation, the new XQD, (updated here) which could mean the new mid-term de-facto standard, a few days ago (during the Las Vegas CES) the SecureDigital Association has announced a new standard which would include WiFi communication inside all SD and microSD cards, including HC and XC versions.
This standard would complete and improve the already existing proposal from the company Eye-fi, who provides this kind of product since some years already, with cards capable of sending the taken pictures to our computer nearby.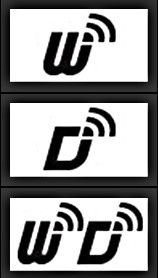 The proposal includes two different "ways" of communication. On one side, a poin-to-point communication is provided, so that the card appears as a drive visible to our computer, and can transfer the images. This mode would be designed "D" for data. On the other side, some cards would be also capable of sending the pictures to our favourite photo-sharing site ("W" for web). Of course, some cards would handle boths ways of communication.
On their side, the company Eye-fi has also published a brief warning of possible legal problems in the implementation, since (so they say) they own several patents and the intellectual property of the concept. We will see if we enter a long legal battle that will stop us from using this technology at more reasonable pricing than the products from Eye-fi. Being americans, most likely Eye-fi will end up being sold to some bigger party (SanDisk?)...
Anyway, let's also hope that this conflict will not be used to stop the development of SD technology, current standard for most consumer electronic devices... In this sense, the new XQD format will be the exceptional guest.