I have been posting articles on the use of free software for some months already, most ones for free graphic design tools (and some other usual applications). A normal user (non professional) cannot typically afford the thousands of Euros or Dollars that commercial licenses may cost for just a few programs: Photoshop, Illustrator, InDesign, Acrobat, Macromedia Flash...
And it seems that many people is starting to think like this. Of course, it's hightime to think about donations or participation in the development activities - at least, by giving input, suggestions, and maybe by beta-testing. Monetary topic has anyway its point: with just a few Euros or dollars, you collaborate in the maintenance of data servers, new hard drives...
Adobe...
From their side, people at Adobe is trying to protect their market share. Taking advantage of the latest web 2.0 technologies, they proposed a new system of online / offline application (Adobe Creative Cloud) usage with a monthly fee, which allows for the download and installation of all programs in their Creative Suite (and periodic updates) as long as the contract is maintained.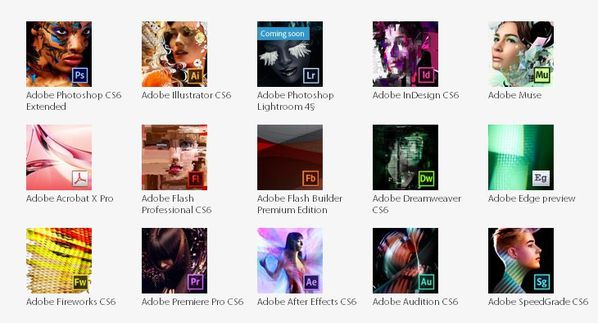 Here I found one of the major issues. Fee was set to $49,99 for standard users in US (even cheaper for students), around 35 - 40€. But in Europe, fee has been set to 61,49€ - about $80. I don't really get the commercial strategy, but now I understand why there is higher piracy in Europe...
Anyway, I don't intend to make a free ad for Adobe here. If someday I can work on this as a pro, I may need it, and I may afford the ~750€ yearly fee in licenses. Every year. But, for the time being, I stick to GIMP, Scribus, InkScape, RAWTherapee...