The free photo edition application GIMP provides a wide variety of automated tools that can help you in reducing your timing in your designs.
In this post, I will review the automated logotypes creation, quite useful, for example, in case you need to create a set of buttons for your web.
The text tool
GIMP creates each text entry in a different layer, and text edition is available anytime, as soon as the text is not edited graphically (layer merged, distortions, blurs, brushes...). Text can be modified from the layers auxiliary window.
Logo creation
Of course, if you have a clear idea on what you are looking for, you may work with layers, shadows, textures, shine... to reach the desired effect. Me, I do this myself often, when I look for a specific result.
However, when you need to repeat a same process several times (for example, to create a set of buttons for your blog), this process may become annoying - specially, if you don't know exactly what you want.
Conversion
Here is where GIMP can help you. There is a set of automated filters, that you may find under "Filters -> Alfa to Logotype"
To apply them, you will need to have the text layer active... Depending on the selected transformation, you may have some control window to play with parameters.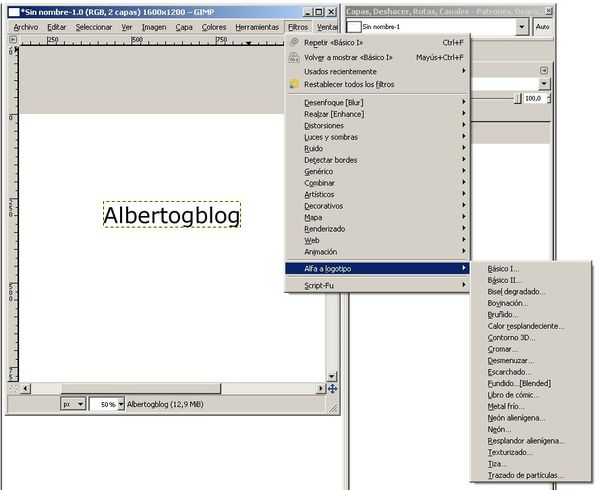 Here you can see a few direct transformation examples:

Of course, from that point you may work on, changing (for example) fill colours, hiding shadow layers...
Attention!
Try not to abuse with the use of this kind of tools. A simple transformation may result in an elegant logo or button, but it may not reach the possible result of a professional edition...
You may also like...