Winter is coming, and I almost did not see Fall go by.... I need to go out for a stroll, take pictures, forget about the job for a while...
My latest proposal: to recover my old lenses from the analogue camera (a Praktica MTL-5B) to use them in the current one, Canon EOS 500D. I am most interested in the Pentacon 50mm f1,8, designed for full-frame (so no problem expected) - only the multiplication factor will make a 80mm out of it.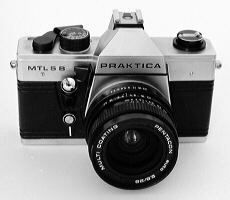 Of course, I know I will have the problem of a passive lens, without any autofocus or electronic control (I did shoot like that, remember!). This is my challenge for this Winter (well one of them). I guess I will work in Aperture priority mode, fixing its value - this is the part I need to study.
As soon as I have first results, I promise to post a couple of photos here... Of course, if you ever did this before, I would be glad to receive your recommendations. In all cases, I will post a description of the steps that I follow, in a tutorial-like way...
This post continues here...